Started on Solids & Traveling with a weaning Baby?
Did you just start your on baby on solids and have a trip booked? Are you in the middle of researching on where to go and what products to bring? This is actually one of the big reasons we started this blog, because it is difficult to know where to buy what foods when traveling to a foreign city or country. Traveling with a weaning Baby is definitely not easy and hopefully you will find some of my tips helpful.
We struggled a lot when we were traveling to Brazil with our then 6 month old daughter. It was difficult to find baby products anywhere and thankfully I spoke the language and was able to ask people for advice & information on where to buy what items.
If you are planning on traveling to Brazil please find our Blog on visiting Brazil with Babies HERE. If you have any other questions please feel free to contact me via email or IG.
Buy Travel Products in Advance
Depending on where you are going I would start purchasing a few products in advance. If you are going to North America they are extremely equipped and definitely have the coolest travel products on the market.
In my opinion fruits were the easiest to start off with. As we were staying in hotels and it was not always easy to find restaurants that had cooked vegetables, nor did we have a kitchen to be able to cook ourselves. Plus we did not always want to give her the baby pouches and decided to save those for emergencies. In addition to avoid your baby getting sick from the water it might be easiest to start with fruits that you can peel such as banana, papaya, kiwi, mango, etc. Depending on where you are traveling to there might not be a whole lot of fresh fruit.
There are a lot neat items out there but here are our top picks:
See what weaning products Jet Life Baby recommends
Our Top 9 Picks When Traveling with a Weaning Baby: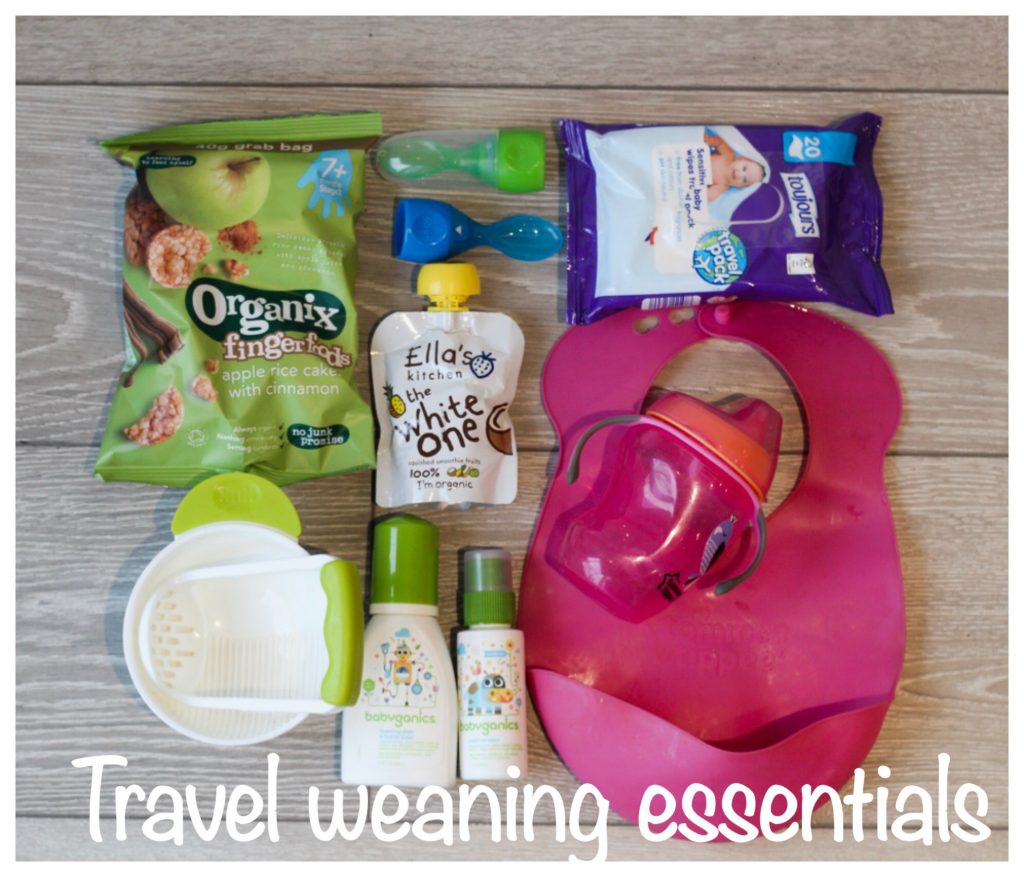 A list of the items we used the most
Munchkin (food Masher) – This masher is small and easy to pack. It is great for the on-the-go Mom´s and especially for those traveling Moms who do not want to buy the ready made baby food pouches. It is easy to mash fruit and cooked veggies.

Munchkin Click Lock Food Pouch Spoons – We really loved using these spoons while traveling , because they come with a cover in case you are not able to wash it right away while on the go. There are a lot of brands out there and to be honest when I found these I did not test any other brands so I cannot comment further, but for us the Munchkin spoons were great as they fit on any brand type baby pouch whether they were from the UK or Canada. I know sometimes some brands say they only work with a certain brand of baby pouches. Click here to check out the product.
Baby Food Pouches – Please bear in mind that I am not biased towards buying a particular brand I just happened to have the coconut/banana/pineapple Ella Kitchen Pouch at home when taking pictures for the Blog. We have tried all of them and my daughter was not fussy except for when it came to the ingredients. At the time of when we starting her on solids which was around  5/6 months, we found that she preferred the sweeter ones that contained more fruit or sweet potato. In any case it is always great to have a few of these handy in the baby change bag or when traveling abroad, just in case the baby doesn´t like the food on the plane or you have a delayed flight and can´t find any supermarket in the country you are traveling to immediately when you land.
A Sippy Cup – Especially when you start the baby on solids it is recommended to try giving the baby water so I recommend bringing one of those along, unless you only want to breastfeed exclusively.
Baby Wipes – I remember one thing my best friend Bianca told me when our daughter was born always bring extra baby wipes and I totally agree. No matter at what ages always bring extra wipes with and especially when you start them on solids as it can get messy heheh.
A Bib- You can bring the one with you normally use at home, but they also have really cool paper ones that are excellent for travelling as they are really light and take up no space at all. Click hereto see the Vital Baby one´s that we use for traveling. And as a Mom we will always find something else to bring along and stuff the baby bag with if we have extra space 🙂
Soft finger food snacks. I recommend taking your Baby´s favourite one with. We found the rice cakes to be the least messiest especially in a confined seat on the plane. I also loved eating them too and its a healthy Mommy & Baby snack.
Babyganics Dish Soap- I absolutely love this baby dish soap on the go bottle.  It is 100ml in size so you can bring it on the plane and I used it all the time once our baby is 6 months old. As you might have read online or have heard from your doctor, family or friends you don´t necessarily have to sterilise the baby bottles after 6 months so this dish soap came in handy. We used it a lot when staying in Hotels during our travels in Brazil & Canada. We of course still cleaned the bottle with boiling water but also used the dish soap in the hotel rooms or even the plane. A great product for clean freaks too 🙂
Babyganics Stain Remover – Normally baby foods out of their clothes if you pour boiling water over them and we did that a lot when traveling abroad, but the Babyganics stain remover stick was also great to have and is pocket size so it doesn´t take up much space in the travel bag. I would recommend bringing something like this or possibly put some powder clothing detergent in a zip lock to bring along as they do get messy and get food all over their clothes as soon as they start on solids.
I hope you found this information helpful for preparing to travel with your baby who will be starting on solids soon or already has started. Please note that I will be updating the blog as new products come on the market, that I believe might help improve your travel experiences with your Baby. If you have any other questions please feel free to drop us a line via Instagram @jetlifebaby or email hello@jetlifebaby.com
If interested please also see my Blog on the Essential Travel items to bring right here. I would also make sure I had those with me as well.
Happy Baby Happy Travels