Visiting Paris with Babies is a whole new experience
Paris was my first trip with in Europe with my daughter Havana when she was about 4 months old.  However, our first trip with Havana (our daughter) was to Canada when she was only 2 1/2 months´ old.
While in Paris I noticed how advanced North America with everything related to Babies as they always have a baby change table or high chair in every single restaurant. It could just have to do with the fact that Europe is a lot older and they do not have the infrastructure, I am not sure. But after visiting Paris with our daughter I thought I would make a check list for myself for the next time we go back when our daughter is older.
Needless to say visiting Paris with a Baby can be very exhausting. We managed to have an incredible time but it is not as easy as we expected and also a reason why we started blogging to help improve other parents´ experiences.
I do not want to go into all of the details and write a book. That is not my intention. My intention is to provide a short list of things to know that will hopefully help you when traveling to Paris with a Baby.
Please find a few of our tips below, which will hopefully be of use to you:
Buy a travel pram/stroller or use your baby carrier. 
The restaurants and cafés are quite small so it would be hard to navigate with regular stollers such as Uppababy, Stokke,etc.
There are a lot of steps and very few elevators so you would have to carry the pram up various flights of stairs.
We also found it difficult to find baby change tables anywhere so there were times were we had to change our baby on the stroller and the travel stroller ´Mountain Buggy Nano´ we bought would lay flat so it was not too difficult to do.
Mountain Buggy Nano and the Babyzen Yoyo are the best travel strollers in the market right now as they fold up to the size of a carry-on and can be taken onboard the plane.
Please note you can legally use the baby carrier in the taxi and if you are in Paris for a short trip and taking a short taxi ride that was a good tip I got from one of my girlfriends. The baby carrier we used is the Ergobaby.
The day you plan on going to Montmatre probably just use the baby carrier, because of all the cobblestone streets as well.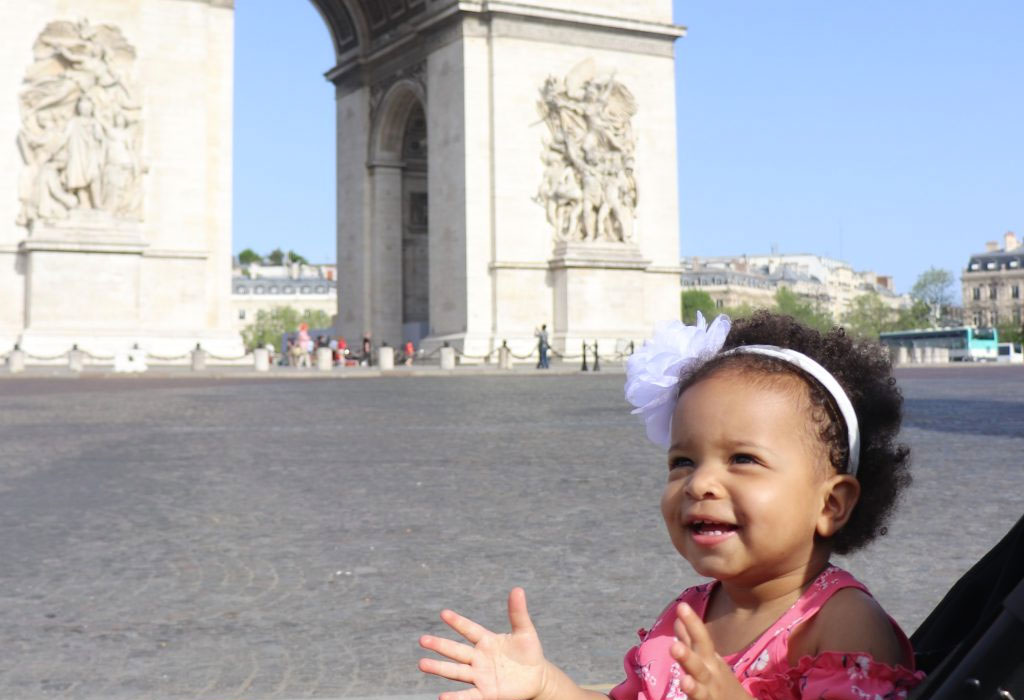 Travel Light
​

This of course is entirely dependent on your budget, because we only stayed in 3-4 star hotels or Air bnb´s.
We found that the hotel elevators and rooms were really small so it would have been difficult to walk around the hotel room had we brought more than carry-on suitcases, or a large stroller. We were happy with staying there for 2 days, we asked the hotel to provide a baby cot for the room and brought her travel stroller & baby carrier.
Do your research on Baby & Toddler friendly Restaurants in advance. 
My husband and I are the lets wing it type, because that always worked well with us in the past (pre-baby), but now that we are parents we won´t be following that approach anymore haha. We still managed to have a great time, but as mentioned we were struggling to find places with baby change tables or restaurants/cafes that would allow us to have the stroller/pram next to us our table. As our daughter wasn´t fulling sitting on her own at that time we weren´t able to use a high chair.
Child Friendly Restaurants & Cafés
Cafézoïde (the only Cafe in France, which is exclusively for children ages 0-16)
La Crète
Au Cadet du Gascogne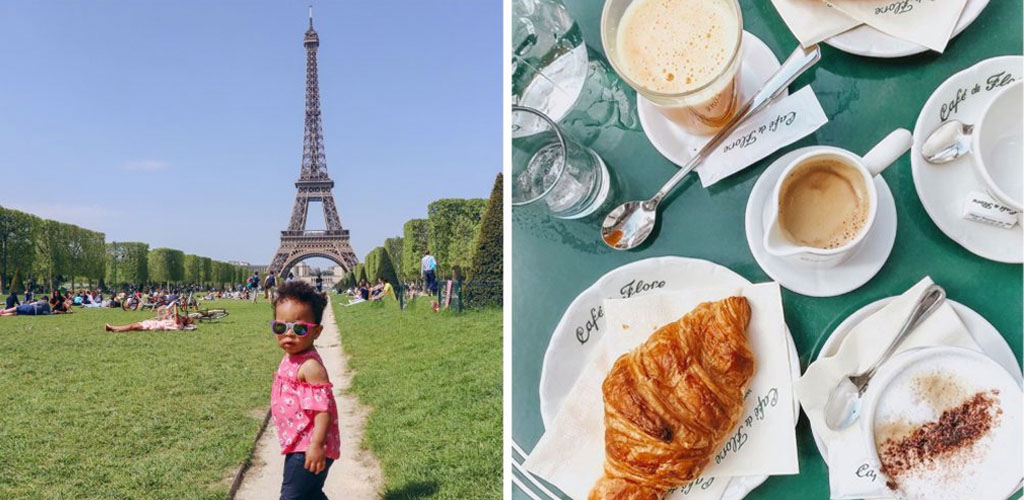 P
ASS LIB
An all-around pass you can purchase which gives you the following
1 hour tour on the Seine with the Bateaux Parisiens
Unlimited travel on the L'Open Tour bus for one day
Temporary exhibitions of the 11 Museums of the City of Paris. (except Catacombes and Crypte archéologique)
Unlimited access to public transport
A Paris museum pass
Option to access Eiffel Tower (2nd floor by lift)
For more information click here
Travel to Paris via the Eurostar
This would apply to tourists thinking of adding on a trip to Paris during their stay in London. It is worth it and the Eurostar takes you right into the city (Gare du Nord)
Its a short and easy trip from London (2 1/2 hours). If you book 6 months in advance it is 80GBP per adult return.
Children up until 4 years old travel for free
Spacious seating if you have a baby sitting on your lap
To check train times & prices click here
Family Friendly Areas 
Marais (3rd & 4th), Saint Germain (6th) & Trocadero (16th) are very family friendly areas if you are looking to areas to book Hotels or Air BnBs. We are in the process of speaking to local Mom´s to be able to update this section for our readers. Stay tuned.
You will be able to find baby products in local supermarkets and pharmacies.
The Usual Tourist Spots
Eiffel Tour
Arc de Triomphe
Notre Dame de Paris
Louvre Museum
Champs-Elysées
Pont Alexandre III
Jardin du Luxembourg
Sacre-Coeur
Palace of Versailles
Seine Cruise
If you love going to Museums, please note that all Museums are free on the first Sunday of the Month.
All in all it was an incredible trip as Paris is just an amazing city that my husband and I will go back to every single year. We love the people, the language, the food, the ambience, simply everything. It is just a totally different experience going to Paris with a baby than as a couple and therefore I thought I would share these tips with other moms to help improve their experience and to make it even better.
Happy Travels Happy Baby,
xo
Jet Life Baby
*Until the Blogs have been translated & posted please email hello@jetlifebaby.com if you would like to see them in German, Spanish or Portuguese