Planning on Traveling a lot with your Baby?
Shortly after Havana was born and before we started traveling we knew that we needed to buy a travel stroller. We received the Uppababy Cruz as a gift from our parents, which we use during the day, but it is not really compact and easy to use if you are planning on traveling with your child.
Especially if you are planning trips through out Europe a travel stroller will come in handy. I talk about this a lot in my destination travel blogs, for example in my Paris blog. Investing in a travel stroller is also one of the first things I advise new parents to do if they are planning on traveling with their babies.
Getting Your Money´s Worth
A stroller is not cheap by any means, so please take your time on researching various strollers to make sure it fits your needs.  I will not go into the details on how to choose a day yo day stroller, as it is a personal choice. However, I do recommend that you pick the stroller that best suits your lifestyle.
We were lucky and got the Uppababy as a gift and therefore I cannot comment on my decision making process, however I do love it. As we do not have a car in London, having a big basket comes in really handy for when we go to the grocery store, shopping, etc.
Having been living in Europe for most of my life I know that the cities are generally not equipped for traveling with big strollers. Especially before we went to Paris I insisted that we needed to purchase a travel stroller. In Paris, the streets are really narrow, the restaurants are small and there are very few escalators and elevators. I knew we would not be able to get around very easily with our Uppababy. To help you with your decision making process in finding a travel stroller I have made a short checklist below.
Travel Stroller checklist:
Ask other friends who are parents for their input & advice
Decide on a budget
Go to the store, ask for advice and try folding and lifting the pram.
Make a list of how you will be using the stroller, as it needs to fit your lifestyle
UK parents just as an FYI Mamas & Papas and  John Lewis provide free parent to be advice session on all baby related items. These are worth checking out.
Try to look for online reviews for pros and cons
Recommended Travel Strollers
During my research and having spoken to friends who traveled with their kids before Havana was born. I narrowed down the search to 2 travel strollers: Mountain Buggy Nano & Baby Zen Yo-Yo. It was between these 2 strollers as they are both approved to carry on the plane as overhead luggage and we knew we were going to travel a lot.
Please note that both travel strollers/buggies are carry-on approved for all airlines.
There might be times where a flight attendant is confused and tries to tell you that you need to check it in, but show them the approved cabin luggage tag you receive when purchasing the buggie.
Please also note that this is an independent review and does not include a full list of features for all travel strollers that are out there on the market.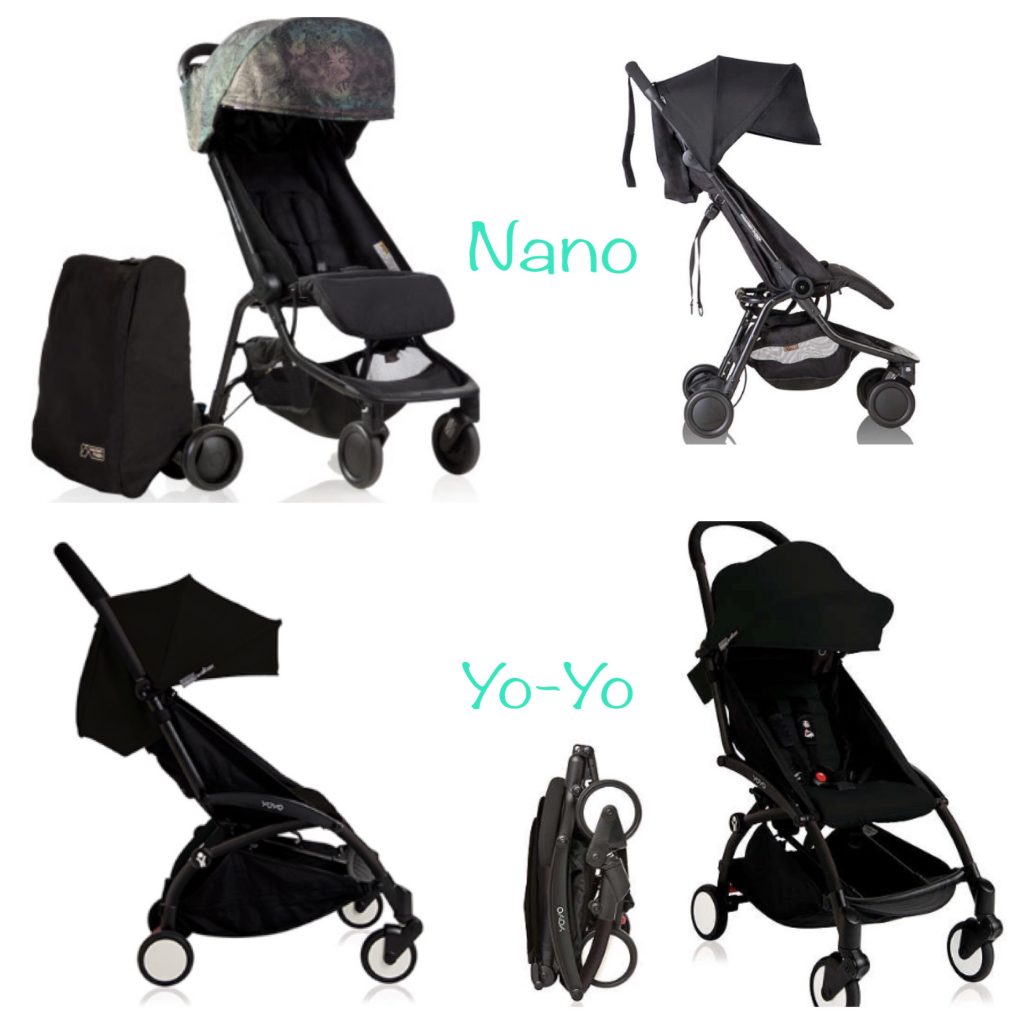 Positives of Both Travel Strollers
Overhead/Carry-on approved for all airlines
Lightweight & easy to fold
Innovative & small
car seat compatible
Durable and easy to clean
Fits in train & airline aisles
Reclining opens [ This comes in handy in many EU cities, as there will be times when you  have to change your babies nappy on the pram 😉 ]
2 year warranty for Yo-Yo and 1 year warranty for Nano
Negatives of Both Travel Strollers
While the Nano is cheaper they are still not cheap
You cannot adjust the handle bar
Rain covers & other items need to be purchased separately
Our Travel Stroller of Choice
As you will be able to see both travel strollers are really similar. And as we do not have a Baby Zen Yo-Yo please note that I confirmed the positives and negatives with friends before publishing this blog. However, as you can see there is not much of a difference between the two. Both are approved and can be taken in as carry-on for all airlines and serve its purpose as an easy to travel with stroller.
In the end it is up to your personal preference and budget. The majority of friends of mine who chose the Yo-Yo bought it for the brand name and simply had a higher budget to work with. Us for example we preferred to spend that extra money from not purchasing the more expensive stroller on a flight ticket haha.  But all in all they are both excellent travel strollers and come in so handy when traveling with babies on planes & trains.
If you have any additional questions or comments in relation to these strollers please feel free to DM me on IN @jetlifebaby or email us  hello@jetlifebaby.com. We will be happy to help.
Happy Baby Happy Travels
xo
JetLifeBaby