Top 5 Baby Friendly Restaurants in Barcelona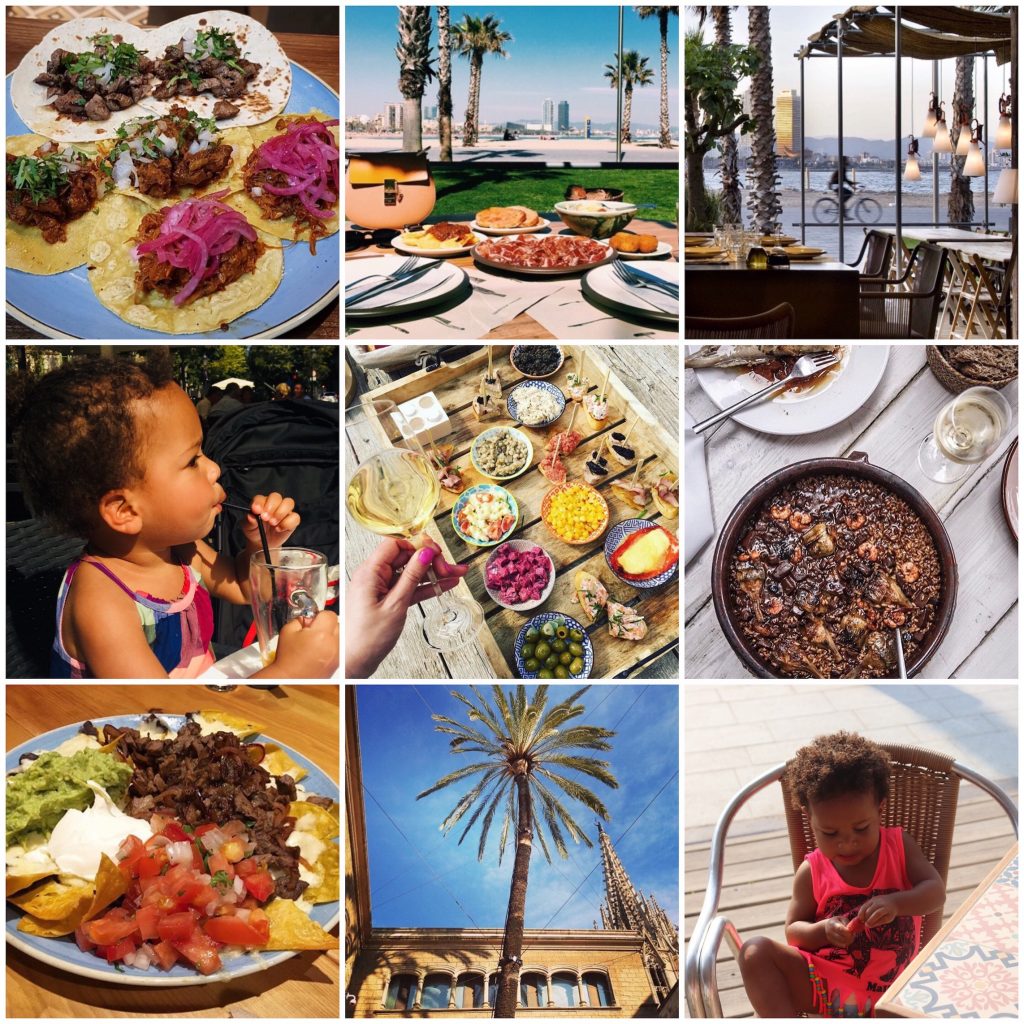 Where the locals eat
Having lived in Barcelona I have so much to talk about. I get really excited and go off on tangents. Especially when it comes to speaking about food.  As most people only stay in Barcelona for a few days, I tried to shorten my list to my 5 favourite Restaurants in Barcelona.
I am sure as you are planning your trip and have already researched on where you should eat and you will have noticed that my picks were not on any of the other blogs you have read so far. That is probably, because these are spots where locals tend to eat.
My Top 5 Baby Friendly Restaurants are:
1. Pez Vela (Spanish – Tapas & Paella)
Pez Vela was very accommodating when we showed up with our Baby. It is located right below the W Hotel (Hotel Vela) and has a great view of the beach. No cars are allowed and there is a grassy area in between the restaurant and the beach.  it is save for your baby or toddler to run around while you are sitting at the table. We walked our strollers up an down the promenade in the middle of lunch to help her nap.
Address: Paseo del Mare Nostrum 19/21  (closest Metro: Barceloneta or take a taxi to the W Hotel)
2. El Gallo de Oro (Mexican)
 El Gallo de Oro just recently opened. It is a hidden gem and only known to locals. I know of the Restaurant, because the current owner is a friend of mine from when I used to live in Barcelona. The food is amazing , they have everything from Mexican specialities to tacos and they make the best Nachos in the world. They were also very accommodating when we came with our Baby and not to forget they have baby change facilities in the washroom.
Address: Carrer de Nàpols, 266, 08025 Barcelona (Closest Metro: Sagrada Familia or Verdaguer )
3. Vinitus (Tapas)
Vinitus is a tapas bar my friends recently introduced me to. If you look up tapas restaurants in Barcelona it will probably tell you Cerveceria Catalana, which is still good but it has become more expensive as everyone has been blogging about it for years and only tourists go there. At Vinitus you will see a mix of locals and tourists. The prices are reasonable and the quality of the tapas is really good.
Address: Carrer de Consell de Cent 333 (Closest Metro: Passeig de Gracia)
4. Kalamata (Mediterranean)
Kalamata is in the area of Poblenou. If you are a tourist visiting Barcelona you might not end up in that area of Barcelona unless that is where your AirBnB is located or you want to go to the beach near there. The beaches along the yellow metro line (from Bogatell until Selva de Mar) are normally cleaner so most families tend to go to the beach around there. And if you do try to check out this restaurant. It opened less than 1 year ago by a really close friend of mine who is Brazilian. Despite the fact that it is my friend´s restaurant as you will be able to see from the excellent reviews on trip advisor, the food is excellent, reasonably priced and they provide an outstanding service (which is unheard of in Spain lol).
Address: Carrer de Pere IV 185 (Closest Metro: Poblenou)
5. Kibuka (Japanese/Brazilian) 
Kibuka is a small family owned Japanese Restaurant with a Brazilian twist. It is always packed and has been around for many years. You will only really find locals at that restaurant as it is hidden in the area of Gracia. I have not been Kibuka with our daughter yet but it should not be a problem if you get there right when they open their doors. Whether you go there with or without your baby as it only has approximately 10 tables I suggest to get there when they open anyhow to ensure you are able to get in.
Address: Calle Goya 9 – Gràcia  (Closest Metro: Diagonal or Fontana)
As we travel to Barcelona a few times a year we will continue to update this list with new, trendy & baby friendly restaurants. For more information on Barcelona and specifically around visiting Barcelona with Babies please CLICK HERE
Happy Eats Happy Travels
xo