Visiting Jamaica with Babies
I know Jamaica is going through a rough patch at the moment as a state of emergency was declared due to an increase in crime recently. I only hope that these issues get resolved as it is an absolutely amazing country. Jamaica holds a special place in our hearts as my husband was born there, but had left when he was 7 years old  and had not been back since. So landing on Jamaican soil was a special moment for him.
We flew to Jamaica for our Wedding and all of our 120 guests traveled from all over the World and all I can say is that they had an incredible time. So keep Jamaica on your watchlist people and go whenever its ok to travel there again as its truly magical.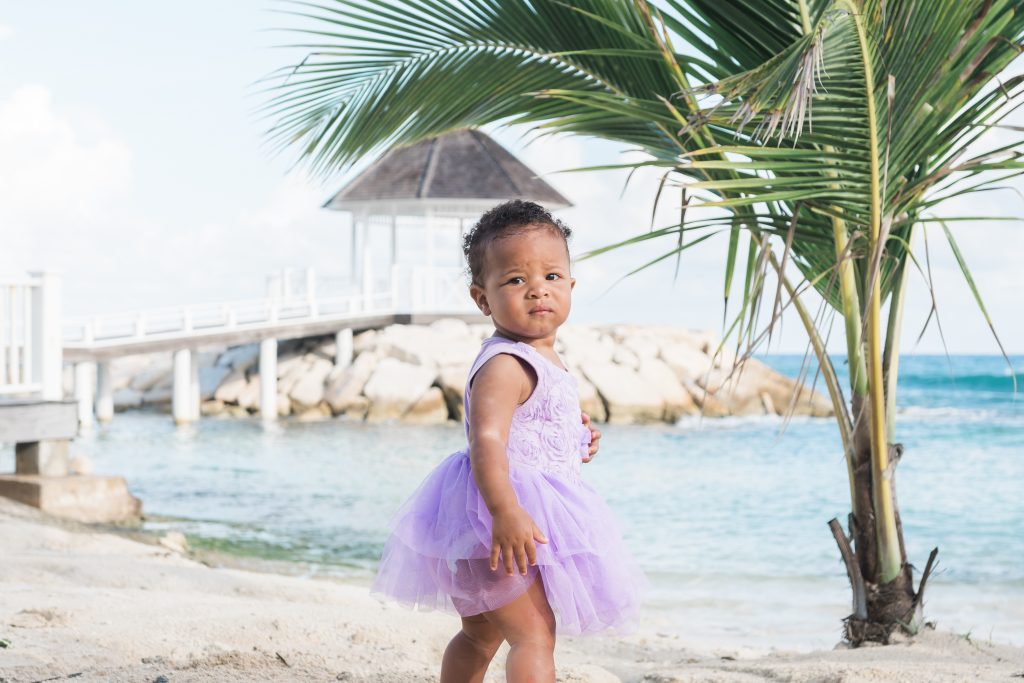 Until it is more safe to go outside of the hotel resort my recommendations for visiting Jamaica with babies are as follows:
Accommodation
Pick a hotel based on positive guest reviews. I thoroughly read through all the reviews because I knew we would have a lot of guests there, but primarily focused on the variety of food, service and accommodation reviews.
We stayed at the Hyatt Ziva Rose Hall and it was incredible. As I planned to have our Wedding there I spent a lot of time researching hotels. If interested see my blog on tips for organising a destination Wedding.
Pick a hotel based on baby sitting & childcare services. I called them to ask about the possibility of arranging babysitters for our Wedding guests as the guests would be traveling from abroad and they were very accommodating. They also have a kids club for ages 3-12 from 9am until 6pm I believe, but double check their website here. 
Once you have booked a hotel call and reserve a cot/crib for when you are there and a kettle.
There were times were the hotel could not provide a kettle in the room but we were able to get boiling water from the bar and bring it up to sterilise bottles in the room.
Other recommended family friendly hotels in Montego Bay are:

Holiday Inn Resort
Sunscape Splash
Hilton Rose Hall Resort & Spa

Recommended items to pack
Bring the essential items I have listed in my top 1o essential items blog
Bring Mosquito spray. I recommend the one from the honest company or babyganics those are good for babies from the age of 3 months.
Bring an inflatable for the baby to swim in. If your baby loves swimming as much as our Havana they will love it and it will give you busy parents a break in the pool too.
We also bought inflatable cup holders and at times put her milk or water in it as we were in the pool a lot and wanted her to stay hydrated.
Bring gummy non slip slippers. I also recommend this brand ´slip free uk´. These are excellent for the pool or beach and are super light.
I always bring an extra bed sheet to put over the cot/crib mattress.
I love the travel size babyganics dish soap. Excellent for traveling, washing baby bottles in the hotel room or airplane as it is 100ml.
Baby friendly sunscreen
Re-useable swim diaper & swimsuit of course 🙂
Baby hat & swim hat
Bring their favourite snacks if they are picky eaters. However if you look at the Hyatt Ziva the Restaurant Choicez has an incredible selection of food.
I would recommend brining enough nappies/diapers and wipes so you do not have to go into town for them as they are quite expensive.
If travelling with a toddler probably bring a life vest as well. Alternatively call or email the hotel to ask if you can borrow one.
Transportation
Jamaican Culture
As mentioned we had an incredible time.
The people are very friendly and helpful
The food is really good, especially the jerk chicken spot at the Hyatt Ziva Rose Hall
The service is excellent
The vibe and the culture is amazing. So friendly and relaxed
The staff were amazing with the babies. So helpful and friendly. It is a very baby friendly country.
Hope this information provided is useful and helpful for Jamaica.
Happy Baby Happy Travels
xo
Marisa Taylor  & Stefania Vescio